Venue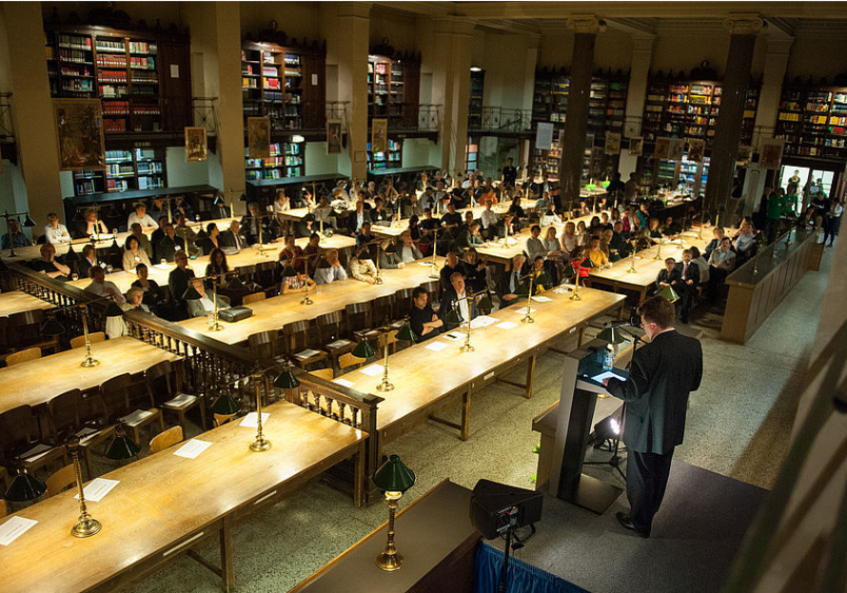 Venue
University of Vienna
Library, main reading room
Universitätsring 1, 1010 Vienna

Vienna University Library large reading room
Modelled on the public Bibliothèque Sainte-Geneviève in Paris, as well as the library of the British Museum in London, architect Heinrich von Ferstel planned the Vienna University library large reading room, which opened in 1884. The originally single-nave, two-storey hall with the innovative glass-iron construction seated 296 people, divided according to faculties.
In 1923, electric light instead of the gas light was set up in the reading room.
The glass roof of the reading room was destroyed during the second world war. During the renovation work the 15 meter-high reading room was divided after suggestion by Hermann Aichinger, a student of the Art Nouveau architect Otto Wagner, so that at a height of 2.5 meters, a new floor has been retracted.
The opening of the "new" reading room took place in 1951.
Today, the largest reading room of the library is largely preserved in its original appearance. He has approximately 60,000 volumes on open shelves in addition to the today 350 seats. The books are sorted by subject areas, including encyclopedias, dictionaries, specialized bibliographies, textbooks, texts, variorum editions and manuals. The books are reference holdings and may not be borrowed.
Access route: University of Vienna | Library, main reading room